Travel to Sicily
Experience and discover Sicily
Sicily is not only the largest island in the Mediterranean but, due to its turbulent history, also one of the most interesting. As a hub between East and West, the island was home to many cultures which left their mark in the country and shaped the history of the island to this day. Besides great testimonies of European history, travellers and tourists will find especially beautiful beaches and lively entertainment in the many towns and villages. Sicily magically attracts every visitor immediately and delights young and old.
Sicily - the largest island in the Mediterranean
If you come to Sicily, you can look forward to an array of natural attractions and natural spectacles. Among many other highlights, the geographically largest island in the Mediterranean Sea is home to Europe's largest active volcano – Mount Etna. The volcano fascinates thousands of visitors each year who want to get a look at the fire-breathing mountain during their city trips or seaside holiday. Apart from Mount Etna, Sicily also offers many scenic highlights: gorgeous beaches, exciting ravines, rugged cliffs, fascinating mountain scenery, island paradises and much more. More than enough reasons to visit this beautiful island. Economically, Sicily still lives on agriculture and fisheries, but tourism plays an increasingly more important role.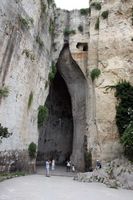 Ear of Dyonisos
Culture and history - in the footsteps of countless cultures
Taking a look at the history of Sicily, you will discover the many different cultures that were native to the island: Siculi, Phoenicians, Greeks, Romans, Byzantines, Arabs, Normans, Swabians, French, Spaniards, Austrians and Italians - the impressive list is quite long. All of them have of course left their mark on the island - some more, some less. Sicily thus offers its visitors today outstanding historical buildings and relics of its history - along with numerous art treasures and cultural legacies. With Archimedes, Emperor Frederick II, Vincenzo Bellini and Giovanni Verga, some of the most important figures in Europe were natives of Sicily.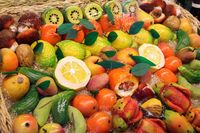 Marzipan
Sicily: Mafia, marzipan & Co
But what would Sicily be without the two most important things the average tourist associates with the island: the Mafia and the culinary highlights. Today's Mafia originated in the unjust distribution of land in Sicily and the vacuum of power between tenants and the absent land nobility. Today it is still alive and what is a sad reality for local people who are victims of organised crime, is for many non-Italian tourists an absolute highlight. In addition to this dark side, Sicily is especially famous for its culinary specialties. Almonds, pistachios, marzipan & Co can be found in many famous desserts and, in terms of wine, pasta and meat dishes, Sicilian cuisine knows how to entice visitors.
More than enough reasons to explore the beauties of this fascinating island.