Travel guide San Marino
Get to know the capital and the republic
Being the oldest republic of the world, San Marino has been a fascinating highlight for centuries, and not just for Italian visitors. Nestled between the regions Emilia Romagna (province of Rimini) and the Marches (province of Pesaro and Urbino), 60.57 km² small San Marino is located in close proximity to the bathing resort Rimini and the mountain range of the Apennines. History and tradition can be felt at every corner: from the relic of the founding father Saint Marinus to the fortifications against the invading Malatesta family to the modern refuge – ZAINOO leads to touristic hotspots and small, hidden treasures far off the beaten tracks and spread across the whole republic.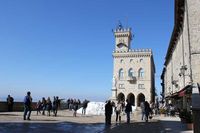 Palazzo Pubblico
Travel guide San Marino: the oldest republic of the world
According to legend, Saint Marinus (Italian: San Marino) escaped to Monte Titano because of the edicts issued by Emperor Diocletian against the Christians. As other Christians followed him, a secularised and religious community was founded: today's San Marino, the oldest republic of the world. Throughout the course of its history, the country has been heavily contested. One noteworthy battle was the win against the Malatesta family, who were reigning in Rimini, in 1461 before joining the church in defeating them decisively. Over recent history, San Marino was valued for its independence and neutrality. During the Second World War the republic took in approx. 100,000 refugees – eight times the population at that time.
Travel guide San Marino: nine fascinating castelli
Hilly San Marino is located around Monte Titano, refuge of the nation's founder and saint. The republic consists of nine administrative districts or castelli (communities), named after the respective castles: San Marino, Acquaviva, Borgo Maggiore, Chiesanuova, Domagnano, Faetano, Fiorentino, Montegiardino, and Serravalle. Several shopping strips and malls, cultural and culinary highlights are located around the republic's capital attracting approx. 2 million tourists a year.
The ZAINOO online travel guide for San Marino satisfies every wish for travelling into the oldest republic of the world: Whether it's touristic hotspots, insiders' tips or comprehensive information about San Marino – ZAINOO has everything for a diverse stay.