Sicily: tips and practical information
Helpful information for your holidays in Sicily
What is the best way to get to Sicily? Which airports are there and how do I reach the islands? What time of year is the best for a visit and what events should not be missed? These and many other questions are answered here and make your stay in Sicily as easy and straightforward as possible. On ZAINOO you will find a lot of useful tips and recommendations that will make for a successful trip to Sicily.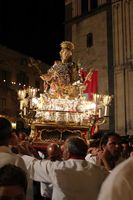 Procession in Acireale
Sicily: tips and information for the stay
Everything to know about Sicily, tips and insider information can be found below:
Arrival
For your journey to Sicily, you have four possibilities: by car, plane, train or ship.
Arriving by car:
Depending on your point of origin, travelling to Sicily by car is very time consuming and there is no direct connection to the island. Basically, you have to drive to Reggio di Calabria in Calabria and then to Sicily by ferry. Alternatively, some of the big Italian ports have ferries to Palermo and Messina. Like everywhere in Italy you have to pay for the use of the motorways. Most of the city motorways are free.
Arriving by plane:
Sicily has two international airports: Palermo and Catania. Both are connected with many European cities by regular flights. From both airports there are direct bus routes that lead to the major cities and destinations in Sicily.
The airport of Trapani operates only with domestic airports. The two island airports on Lampedusa and Pantelleria can be reached from Palermo and Trapani.
Arriving by train:
Similar to travelling by car, there is no direct connection to Sicily by train. Whoever wants to travel by train needs to buy a ticket to Reggio di Calabria. From here you take the ferry to Messina from where you can then take the train again.
Travelling by ship:
Sicily is connected to the mainland by regular ferry services between Messina and Reggio di Calabria. The ports of Palermo, Catania and Trapani can be reached from Genoa, Livorno, Naples, Salerno, Cagliari, Malta, Tunisia and Valencia by more or less regular connections.
With speed boats and ferries you can also reach the various islands and archipelagos around Sicily. The Egadi Islands and Pantelleria can be reached from Trapani, from Palermo you get to Ustica, the Aeolian Islands are connected with Milazzo and finally Lampedusa can be reached from Porto Empedocle near Agrigento.
Beaches
There are beaches in Sicily in abundance. The beaches on the east coast around Taormina attract holidaymakers while on the north coast holidaymakers enjoy the pleasures of bathing around Trapani and San Vito lo Capo. If you do not want to bathe in the industrial areas, however, in the south of Sicily you have endless choices – there are beautiful beaches one after the other.
The numerous islands around Sicily constitute a bathing paradise. Crystal-clear sea and beautiful sandy and rocky beaches together with good tourist infrastructure can be found here on almost every island.
Festivals & Events
In Sicily there are a variety of festivals which are worth a visit. To immerse yourself into the world of the Sicilian at least once is a unique experience that you definitely should not miss. In general, many Sicilian feasts are determined by the church calendar and on religious holidays processions and performances often take place. In addition to the parades in honour of the saint of each city and village, you should compare the following festivals with your holiday calendar:
January:
Epiphany. It is celebrated in many towns and villages - a special experience is the festival in Piana degli Albanesi south of Palermo.
February:
In the beginning of February there is the "Sagra del mandorlo in fiori", the Almond Blossom Festival in the Valley dei Templi in Agrigento.
From the 3rd to the 5th of February the Feast of Sant'Agata in Catania is worth a visit. In honour of St. Agatha their relics are carried in a procession through the city.
During Carnival, parades take place in the carnival strongholds of Acireale, Sciacca, Termini Imerese, Castelvetrano and Taormina.
March:
Around Easter numerous processions, mystery plays, dances, and resurrection games take place. The most important ones are in Piana degli Albanesi, Castelvetrano, Caltanissetta, Adrano and Prizzi.
April:
Processions with Sicilian carts in Palermo and Taormina and the feast of San Giorgio on 23rd April.
May:
From May to June, you can see classical theatre performances at the Greek Theatre in Syracuse.
In Casteltermini the Sagra del Tataratà is worth a visit on the last weekend in May. Processions in period costume run through the town in honour of the Holy Cross.
June:
The feast of St. Peter is celebrated on the 29th of June in all of the fishing villages.
July:
Start of the opera season at the Castello Lombardo in Enna.
Celebrations in honour of St. Rosalia (U Fisinu: 11th – 15th of July) in Palermo and of San Giacomo (La Luminaria 24th – 25th of July) in Caltagirone.
Taormina Arte: Film and theatre festival in Taormina, with numerous exhibitions, performances and concerts at the Greek Theatre.
Classical theatre performances can also be seen in Erie, the ruins of Gibellina and the Greek theatre in Segesta.
August:
Palio dei Normanni: Horse races in historic costumes on the 13th of August in Piazza Armerina.
Passeggiata dei Giants: Life-size figures recall the legendary founders Mata and Grifone of the city of Messina.
San Vit Jazz Festival in San Vito lo Capo
September:
Thanksgiving and saints feasts: 3rd – 4th of September pilgrimage to the Rosalie cave on Monte Pellegrino; 8th – 9th of September Festival of the Black Madonna in Tindari and Feast of the Madonna in Gibilmanna.
November:
Beginning of the opera season in Catania, Messina and Palermo
International Week of Music in Monreale
December:
Feast of St. Lucia on the 13th of December in Syracuse. Various Christmas and nativity scenes in many cities.
Travel time
Although the temperatures in Sicily are rarely below 10 degrees Celsius in the winter, it is recommended that you plan your journey from August to September. With a maximum of 2 to 4 rainy days per month, you can certainly plan on there being beautiful weather here. Please note that the temperatures in July and August can sometimes reach 45 degrees Celsius, which quickly makes a sightseeing holiday a nightmare. Beach lovers, on the other hand, can perfectly enjoy the heat in the 24 degree warm water. Higher regions around Etna even offer snow in winter and winter sports.
More practical information to Sicily and tips for your stay in Italy can be found in the general information about Italy.