Online travel guide Ravenna
Reliving the Migration Period
During its millennia-long history Ravenna served many masters and was ruled by several different cultures. The city in the Emilia-Romagna was greatly influenced by the Migration Period that here lasted until the 8th century. A history that eventful seemed highly unlikely when Ravenna was founded in the Po delta lagoons around 500 BC populated initially by Umbri, Etruscans and Gauls. The Romans took over in the 2nd century BC during the construction of the Via Emilia. After the end of the Roman Empire, Ravenna even became the capital of the Western Roman Empire in 402 and kept its status – with minor interruptions – until 476 when Odoacer dethroned the final Western Roman Emperor Romulus Augustulus.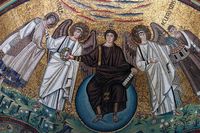 Mosaics of Basilica San Vitale
Travel guide Ravenna: Ostrogoths, Byzantines and mosaics
Ravenna flourished culturally and economically after the Ostrogoth king Theoderic the Great had forcibly deposed of Odoacer. The world-famous mosaics, which were declared World Heritage Site by the UNESCO in 1996, were created during his regency. Some of them were altered by the Byzantines, who had reclaimed Ravenna after Theoderic's death, due to their Arian nature. The rule of the Eastern Roman Empire over Central Italy ended in 751 with the Langobard king Aistulf conquered the city. The Donation of Pippin in 756 lead to Ravenna's integration into the Papal States, where it remained until the unification of Italy with the exception of two interruptions – one by Venice, one by Napoleon.
Travel guide Ravenna: trip to the hinterland
Ravenna's illustrious history is palpable in its surroundings, too. An ancient Roman country house was found in Russi. It is now site of an archaeological complex that constantly unearths new fascinating evidence of the Roman way of life and culture. Even though Ferrara is about 90 km away from Ravenna, the influence of its noble dynasty, the Este family, can be seen in nearby Sant'Alberto. The town located in the Po Delta Park is home to an undiluted natural refugium. Ceramics enthusiasts will certainly be familiar with Faenza, home of the faiences and of ceramics workshops.
The ZAINOO online travel guide knows the best, fastest and most beautiful ways to navigate through Ravenna's beautiful city centre and the equally impressive hinterland. ZAINOO presents the total service package for a stay in Ravenna involving touristic hotspots, lesser known places and a plethora of valuable information.