Online travel guide to Syracuse
Journey into the Greek history of Sicily
For centuries, ancient Syracuse was the largest and most powerful city on the island. Even today, the numerous great buildings of earlier eras bear witness to the glory and splendour of the city. Today the city impresses visitors in two ways. On the one hand, the remains of ancient buildings still bear witness to the great past of the city and on the other hand, the buildings made of white limestone give the old city of Syracuse a very special flair. ZAINOO not only gives information about the highlights of the city, but also provides numerous tips and leads the visitor to interesting places off the busy tourist routes.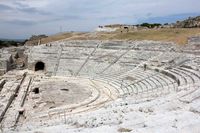 Greek theatre
Travel guide to Syracuse: Journey into ancient Greece
Syracuse is undoubtedly one of the highlights of any trip to Sicily. For centuries, Syracuse was not only the most powerful city on the island, but also the largest in the whole Greek world. Accordingly, many historical remains can be found throughout the province today. From the Greek theatre, the Ear of Dionysius, the Tomb of Archimedes through the harmonious old town with the Cathedral, the Castello Maniace and the Temple of Apollo to the first Christian artefacts in the catacombs of San Giovanni - Syracuse offers a variety of top-class and attractive sights for its visitors.
Travel guide to Syracuse: Sightseeing in the Hyblean Mountains
Almost as much as the capital of Syracuse, the adjacent Hyblean Mountains offer its visitors a journey into the past. A walk through the cave city of the dead Pantálica is just as delightful as visiting the baroque city and UNESCO World Heritage Site of Noto. Beach lovers will find enough opportunities for swimming and attractive beaches particularly in the south of the province of Syracuse. There are more than enough reasons to visit the city of Syracuse and the surrounding province.
The ZAINOO online travel guide to Syracuse provides a comprehensive platform with lots of information and tips for your stay in Syracuse.