Online travel guide to Belluno
The capital of the Belluno Dolomites region
High above the Piave river on a narrow spit of land sits the old town of Belluno, capital of the province of the same name and the southern gateway to the popular area of the Dolomites. The small town itself offers its visitors a magnificent panorama and, above all, the unmistakable atmosphere of a mountain town in the Alps. The province of Belluno also has a lot to offer to its travellers, especially to sports fans: from skiing and hiking paradises to water sports on the lakes: just the right thing for all those who appreciate a relaxing holiday in the alpine world of Italy.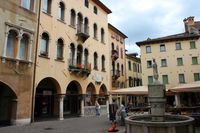 Piazza delle Erbe
Travel guide to Belluno: City high above the Piave
Belluno is located on a narrow ledge high above the river Piave. The old town on the tip of the headland always offers visitors beautiful views of the surrounding mountain ranges. Like many cities in the Veneto region, Belluno is also characterised by the Venetian style and has many buildings from the Gothic and Renaissance periods. A relaxed stroll through the beautiful squares, along the walkways and historic buildings to the jewel of the city – the Piazza Duomo with the Cathedral of Santa Maria Assunta and the Palazzo dei Rettori – should be planned in any case.
Places of interest as well as city tours and tours through Belluno, hotels and accommodation can be found on the following pages.
Travel guide to Belluno: Gateway to the Dolomites
Belluno does not just offer cultural highlights but significantly more in terms of sports. The Dolomites in the north of Belluno are a world-renowned paradise for hikers, climbers, skiers and mountaineers of all kinds. The beautiful scenery of the mountains is also worth a visit for non-athletes because the karst peaks of the Dolomites are unparalleled the world over. You should not miss a short stop-over at the beautiful Renaissance town of Feltre during a tour through Belluno.
The ZAINOO online travel guide to Belluno offers a comprehensive platform with lots of information and tips about everything you will need during your stay in Belluno.