Greeks and Romans in Sicily
From the Greek stronghold to the breadbasket of Rome
Already inhabited in the Neolithic Age, the Sicani, Elimi and Sicels lived in Sicily until the arrival of the Phoenicians. With the appearance of the Greeks, the Phoenicians moved into the western half of Sicily around Palermo. The Greek tyrants led the Greek culture in Sicily to such prosperity to rival that of ancient Greece itself. With the first Punic War the Romans finally came to Sicily and gradually occupied the land, which they exploited to death.
Prehistory: Sicani, Elimi, Sicels and Phoenicians
The oldest traces of human settlements in Sicily can be found in the Addauragrotte in Palermo and in the Grotta del Genovese on the island of Levanzo. These Neolithic cultures were followed by the Bronze Age Thapsos, Castelluccio and Pantalica cultures. The Sicani are the oldest permanent settlers and farmers who are said to have migrated from the Iberian Peninsula and founded their capital Kamikos near modern Agrigento. They were followed by the Elimi, whose ancestors date back to ancient Troy, and who founded the cities Segesta, Eryx and Entella. Finally the Sicels from Italy settled in the east of the island, where they built sturdy mountain towns and huge necropolises. Around 1000 BC the Phoenicians from Syria reached the island and established trading posts, including Palermo, Mozia and Solunto.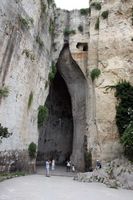 Ear of Dyonisios
Greek civilization in Sicily
In the 8th and 7th Century BC the first ionic Greek settlers arrived in Sicily. They founded cities such as Naxos, Lentini, Catania and Messina on the Sicilian coast. Shortly thereafter Dorian Greeks settled around Syracuse and advanced up to Agrigento. Thanks to similar climatic conditions and geographic proximity to mainland Greece, Sicily became an autonomous Greek civilization, which merged quickly with the local population. Great Greek thinkers and scientists such as Archimedes and Pythagoras were born here and spread their teachings from Sicily. A golden age began which made Syracuse one of the most powerful Greek cities in the known world.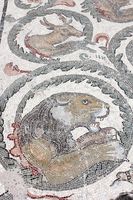 Frescoes in Piazza Armerina
Sicily under Roman rule
With the resurgence of Phoenician and Carthaginian domination, the Greek cities of Sicily came under increasing pressure until rising Rome took their side and defeated the Carthaginians in the First Punic War. Western Sicily was thus the first non-Italian province of Rome. Only eastern Sicily, with its capital Syracuse, fought under the tyrant Hiero II. on the side of Rome and remained independent. After Hiero's successor, his grandson Hieronymus, allied with the Carthaginians, eastern Sicily was completely conquered by the Romans in the Second Punic War and incorporated into the Roman Empire. From that point forward, a governor ruled the Roman province of Sicily and exploited the country mercilessly. The island was highly valued especially as a supplier of timber and as a granary of Rome. With the fall of the Western Roman Empire Vandals and Ostrogoths swept across the island until Byzantium freed Sicily in AD 535 and integrated it into the Byzantine Empire.