Culinary delights in Sicily
The cuisine of Sicily
When one thinks of Sicilian cuisine, in addition to exceptionally good and varied food, the Sicilian desserts in particular come to mind. Heavily characterised by Arabic influences, the desserts are an interesting combination of sweet and spicy ingredients. The locally grown almonds (marzipan) and pistachio nuts can be found in many dishes. Along with a delicious Sicilian wine, connoisseurs can look forward to a true culinary delight.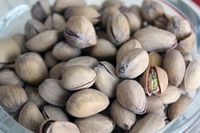 Pistachios
Diverse Sicilian cuisine
The culinary heritage of many different cultures makes Sicilian cuisine one of the richest in Italy. In the rich and big markets of Sicily shellfish and crustaceans, meat, fruits, vegetables, herbs and mushrooms from the forests and the plantations and fields of the island can be found alongside fresh fish. This diversity of fresh food is what leads to some of the most delicious traditional Sicilian dishes like Arrancini (rice balls with meat), Polpetti (meatballs), Involtini (meat stuffed with cheese, eggs, onion and salami) as well as a variety of fish dishes.
Three of the most famous Italian dishes ever began to conquer the whole world starting in Sicily: pasta, pizza and ice cream. Brought by the Arabs to Sicily, they quickly found a new home in all of Italy and today delight young and old throughout the world. In addition to the Pizza Siciliana (stuffed pizza) there are pasta dishes of all kinds in Sicily. The most known are pasta alla norma (pasta with aubergines), Ncasciata (noodle specialty from Ragusa) and Pasta con le Sarde (pasta with sardines, raisins, pine nuts, fennel and saffron).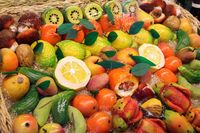 Marzipan fruits
Sicily: Isle of sweets
Above all, Sicily is known for its desserts. Almonds, marzipan, pistachio nuts, candied fruit and ice are reflected in the variety of dishes and delight everyone who tries them. The Arab influence can also be found in the sweet Dolci and therefore sweet desserts are often mixed with spicy dishes. Desserts such as Cuscus (couscous), cannoli di ricotta (pasta rolls with ricotta), Cassata Siciliana (sponge cake with marzipan, ricotta and candied fruit), Cobaita (sesame pastry with almonds and honey), as well as ice creams and Granite (a kind of sorbet) are very popular and valued in Sicilian cuisine.