Cities and activities in Sicily
Experience and explore Sicily
Sicily offers its visitors an impressive range of high-profile landmarks, interesting places and attractive destinations from the temples in Syracuse, Agrigento and Selinunte, through vibrant island cities like Catania, Palermo and Messina, to the hill towns in the interior of the island. Along the coasts, beautiful beaches stretch alongside the cliffs - both surrounded by many quaint little villages. Above all the mighty volcano Mount Etna is enthroned in the north-east of the island, which is itself the focal point for numerous excursions and activities – this is truly an island that is well worth discovering.
Experience and explore Sicily
The 9 provinces of Sicily offer visitors plenty of attractive destinations that make a visit to the beautiful Mediterranean island worthwhile. In addition to the cultural and historical sights and attractions, there is also a variety of sporting activities, which one can enjoy in Sicily. Apart from the various water sports, extensive hiking and biking are becoming increasingly popular in the less hot seasons. Even skiing is possible in the winter on Mount Etna. Thus, the island offers sports enthusiasts a much more diverse programme than you would suspect at first glance.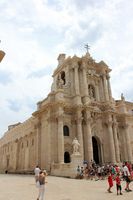 Cathedral in Syracuse
9 provinces - countless destinations
Whatever motivation leads travellers to Sicily - there are certainly more than enough things to do and to experience. Hardly any other island offers such a packed programme of beach, active and cultural holidays as Sicily. While you can look forward to excellent culinary delights in all 9 provinces, the southern provinces of Agrigento, Caltanissetta, Ragusa and Trapani in particular offer great swimming. In the north, bathers cavort especially around the tourist hotspots Taormina, Cefalu and of course along the beautiful beaches on the Lipari or Aeolian Islands. Hikers and cyclists are in good hands on all of the hills and mountains of Sicily. No matter what activity you are planning during the day, you should pig out on Sicilian cuisine with a glass of Sicilian wine in the evening.
Interesting cities and attractive tourist destinations and activities to experience are therefore more than enough reason to visit Sicily.