Online travel guide to Padua
Explore Padua and its surroundings
Padua is one of the oldest cities in Italy and, along with one of the oldest universities in the country, features some relics and tombs, which have made Padua the target of countless pilgrims for centuries. The city gained world fame because of the famous cycle of frescoes by Giotto in the Cappella degli Scrovegni. Although the town often seems to lag behind its two big rivals Venice and Verona, it still offers a wide range of attractions for its visitors. In addition, the region around Padua is a soothing spa paradise and the Euganean hills are excellent for hiking and relaxing.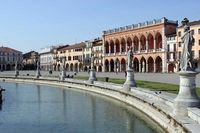 Prato della Valle
Travel guide to Padua: Treasure chest in the heart of Veneto
The famous frescoes by Giotto in the Cappella degli Scrovegni, the grave of St. Luke in the Basilica di Santa Giustina, the relics of St. Anthony in the Basilica di Sant'Antonio, the Caffè Pedrocchi and the Palazzo della Ragione – these are just some of the magnificent sights that await travellers during a visit to Padua. In addition, Padua is one of the oldest cities in Italy and its university is not only the third oldest in the country but also had famous teachers such as Galileo Galilei. ZAINOO offers Padua travellers a wealth of background information for travel planning and ensures that you do not miss the main attractions. All interesting places as well as sightseeing tours of Padua, hotels and accommodation can be found on the following pages.
Travel guide to Padua: Spa and hiking region in Veneto
Four beautiful spa resorts in the immediate vicinity of Padua and in the middle of the Euganean hills together form the biggest spa region of Italy. The towns of Abano Terme, Montegrotto Terme, Battaglia Terme and Galzignano annually help countless rheumatoid and arthritis patients and athletes to ease their pain significantly. These tranquil spas near Padua are reinforced by the green hills and picturesque scenery of the beautiful Euganean hills, which form a wonderful contrast to the frantic pace of the industrial city of Padua.
The ZAINOO online travel guide provides a comprehensive platform to Padua with extensive information and insider tips for your stay in Padua and its surroundings.