Arts and Culture in Sicily
Greek temples and famous writers
If one thinks of art and culture in Sicily, the great Greek temples in Taormina, Siracusa, Selinunte and Agrigento immediately come to mind. Thanks to its geographical location, Sicily has always played a mediating role between East and West, which is also reflected in its art. Phoenician, Arab and Byzantine monuments, excavations and art can be found here, as well as mosaics and Roman villas, Norman castles and cathedrals and whole Baroque cities.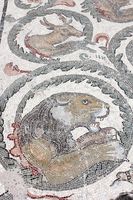 Frescoes in Piazza Armerina
Temples, mosaics and historical monuments in Sicily
Sicily is full of historic buildings from different eras. The first marks of human cultures date from the 6th Millennium BC and the Phoenicians and indigenous Sicels left some gigantic necropolises - including the necropolis of Pantalica. The Greeks crucially influenced the architecture of Sicily in the following centuries. Great temples were constructed in the Greek cities in Naxos, Taormina, Siracusa, Selinunte, Agrigento and many other settlements. Many of these temples are still better preserved than those in Greece itself. Sculptures, coins and especially famous philosophers and mathematicians such as Archimedes also came to Sicily with the Greeks.
From the Roman period numerous amphitheatres, baths and villas with some unique mosaics such as in the Villa del Casale in Piazza Armerina can still be found today. The mosaics from the Byzantine Empire also play a big part in the later Norman period evidenced by the impressive mosaics in Palermo and Cefalu. Under the Normans and Spaniards, many of the later Gothic cathedrals arose in the larger cities. While Renaissance elements can only be found occasionally, many Sicilian cities shine in the typical baroque style. After the devastating earthquake of 1693, entire towns were redesigned and built entirely in Baroque style. Among the finest are Noto, Avola, Grammichele and Pachino.
Painting and literature
Although Sicily magically attracted many artists, it produced only two of its own great artists: Antonello da Messina (1430 - 1479) and Renato Guttuso (1912 - 1987). Antonello is still considered the painter who gave the Venetian masters the resin-oil painting and his proclamation representations can still be found in Messina, Palermo, Syracuse and even in Germany and Austria. Renato Guttuso, in contrast, was a politically committed artist of the 20th Century and committed to political realism.
While only a few painters were born in Sicily, the island was home to a lot of famous writers: Giovanni Verga (1840 - 1922), Luigi Pirandello (1867 - 1936), Giuseppe Tomasi di Lampedusa (1896 - 1957) and Leonardo Sciascia (1921 - 1989) are just some of the most famous and talented Sicilian authors.