Online travel guide to Venice
Explore and experience Venice
With 14 million visitors each year, Venice is the most popular and most visited city in Italy after Rome. The unique atmosphere of the city on the water captivates visitors with its busy narrow streets, bridges, canals, gondolas and famous historic buildings and picturesque places as far as the eye can see. If that's not enough, you can also visit many other small islands around the lagoon city. ZAINOO not only tells you about the city's absolute highlights but also provides numerous insider tips and takes visitors to places worth seeing away from the busy tourist routes.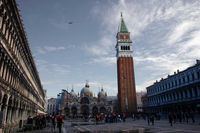 St. Mark's Square
Venice travel guide: The unique atmosphere of the lagoon city
Venice – the unique city on water is a magnetic attraction for visitors from around the world each year. The lagoon city's unique atmosphere as well as its great historic monuments and valuable art treasures inspire every visitor. ZAINOO not only offers lots of background information for travel planning – thanks to a wealth of tips and interesting information you can gather enough material to be able to enjoy your stay in Venice to the full. All interesting places and attractions, as well as city tours, hotels and accommodation (including rental apartments in Venice) can be found on the following pages.
Guide to Venice: Heading into the lagoon
Venice is much more than a historic city on the water. The numerous islands throughout the lagoon have been populated by the Venetians for centuries and offer additional highlights around the lagoon city to the visitors. Glass from Murano, Burano lace, the film festival on the Lido or the great Armenian Library on San Lazzaro are just a few examples of the many options for excursions. The constant traffic on the water makes a stay in Venice an extraordinary experience. Venice also has a lot of delicacies to offer for lovers of Venetian and Italian cuisine. Polenta, risotto and fish dishes are served with excellent wines from the Venetian hinterland.
The ZAINOO online travel guide for Venice provides a comprehensive platform with lots of information and tips for staying in the lagoon city of Venice.