Benvenuti in Italia – travel to Italy
Holidays at the cultural centre of Europe
Italy - culture, culinary art and a distinctive lifestyle are only three of the country's main exports. Having been heavily influenced by ancient Roman culture, Renaissance ideals and a true firework of culinary and sensorial pleasures, the magic of Italy can be felt at every corner. Its beauty will certainly enchant every visitor making for an unforgettable holiday to Italy.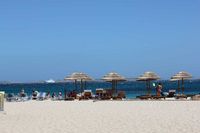 Beach holidays in Italy
Travel destination Italy
Everybody planning to travel to Italy can be looking forward to an unforgettable holiday at one of the most beautiful travel destinations in Europe. The country not only impresses with its scenic and cultural attractions, but also features countless culinary highlights and fashion hotspots for every taste. An openhearted and amiable population as well as an old artistic tradition add up to preserve the charm of the country.
"Those that cannot love Italy haven't experienced its treasures and excellence."
However, despite lots of praise heaped upon this multifaceted and attractive country, Italy also has its dark sides, which should not be forgotten. Aside from a high rate of criminality - especially in the poorer south - and economic inequality within the country politics above all regularly cause international outcry. Home affairs dispute owing to the great number of small parties and the still huge influence of the regional mafia groups showcase the deep divide in an otherwise marvellous country. Still, Italy has established itself within the European community with the economy having become the fourth-largest within the European Union mostly thanks to the well-performing north.
Travel to Italy: history, culture and culinary art
History, culture and cuisine – these three terms are closely connected to Italy. Even though the geographic conditions and the breathtaking nature of the different nature have their very special for all sorts of tourists, Italy would be only half as fascinating if it weren't for its rich history, diverse culture and culinary specialities.
Overall, Italy is a country that inspires with its beauty and elegance. Whether it's a bathing holiday at the Mediterranean Sea, a cultural journey through Italy or even a city trip to the historic capital Rome, the fashion metropolis of Milan or the city of love Venice - Italy always offers a special holiday experience to every visitor.