ZAINOO – Online travel guide to Emilia Romagna
Insider tips for your stay in Emilia Romagna
Emilia Romagna – colourful, diverse region in the heart of Italy. You find numerous insider tips and interesting facts about travelling to this beautiful region on ZAINOO, the online travel guide to Emilia Romagna. For many tourists the renaissance city of Ferrara and Ravenna's unique mosaic displays are magic attractions just like the wide beaches and nightlife districts around Rimini. It is worth visiting all the other provincial capitals and regional highlights as well. On ZAINOO, everyone finds all the information needed and numerous interesting tips for a holiday in Emilia Romagna.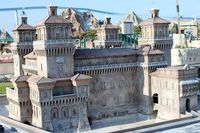 Travel guide to Emilia Romagna: Things to know about your trip to Italy
ZAINOO online travel guide to Emilia Romagna prepares you perfectly for your trip to Italy. Numerous insider tips, helpful information, reviews and reports as well as a number of photos of tours and sights offer a comprehensive source of information to plan your journey. Interactive maps not only enable you to plan your upcoming trip to Emilia Romagna, all the information relevant for your tour and selected sights are included as well. It does not matter whether you came to Emilia Romagna for swimming, hiking, shopping, or sightseeing – with ZAINOO you are always well-prepared.
Travel guide to Emilia Romagna: The most beautiful destinations of the region
If you plan a trip to Emilia Romagna, you can look forward to one of the most colourful and diverse regions of Italy. Italy's belly, as the region is called with respect to its geographic position and high culinary standard, offers wonderful mountainous and hilly scenery alongside vast beaches, and numerous interesting cities and attractive travel destinations. Be it Bologna, Ferrara, Ravenna, Piacenza, Parma, Modena, Reggio Emilia, Forli-Cesena or Rimini – the region's distinctive air and charm enchant visitors from the very first moment. Those are only a few of the numerous fascinating highlights one sees on a journey through Emilia Romagna. Nature lovers get their money's worth in the Po delta, the Apennines, and the beautiful hilly regions as do sports enthusiasts, beach vacationers and culture buffs.
A number of reasons to pay a visit to this beautiful region!