Online travel guide Ferrara
A round trip through the rich heritage of the Este
Ferrara is the exception to the rule in the Emilia Romagna if not in all of Italy being one of the few cities without Roman roots. Expecting the city to be devoid of culture and less respectable, however, would be a grave error. Indeed, Ferrara has a rich history. Once populated as a settlement around the Po delta, the lagoon location only became popular in mid-12th century after the Po River had been relocated. Having been taken over by the noble Este dynasty, Ferrara began to flourish. Commanding, splendorous buildings and memorials of the once large Jewish community bear witness.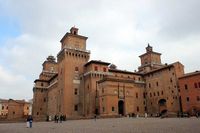 Castello Estense
Travel guide Ferrara: from art metropolis to World Heritage Site
The reigning Este dynasty hasn't only been open to various religious, particularly Jewish, communities; they turned Ferrara into a metropolis of art and culture during their 300-year reign. Fascinating frescos – for example in Palazzo Schifanoia – grand architecture and popular photo subjects (such as the roofed stairway at Palazzo Municipale) bear witness of an eventful period. After Ferrara fell into the hands of the Papal States, it lost its resplendence and inhabitants; the latter being only restored in 1988. The walled city centre was declared World Heritage Site by the UNESCO in 1995.
Travel guide Ferrara: lagoon-heavy hinterland
The variegated hinterland around Ferrara still shows signs of the lagoon past with its breathtaking nature. Forests and meadows, lakes and swamps, and ample preserved areas run through the land. Comacchio still allows its visitors to boat across the Po River channels in the city – an experience evocative of travelling to Venice. Several hunting castles, fortifications, ducal residences and one of the literarily inspired Mills on the Po keep the visitors company on their many rambles.
The ZAINOO online travel guide knows the best paths through Ferrara's historic city centre and the breathtaking surroundings. Touristic hubs, insiders' tips beyond the commonly known paths, and extensive information: ZAINOO fulfils every wish for an elating stay in and around Ferrara.