Online travel guide to Treviso
From the historic old town to the Prosecco region
The beautiful historic city of Treviso is situated amidst a boundary wall crisscrossed by picturesque canals. Historic houses, galleries and picturesque places will make your walk through the town a wonderful experience. But the province of Treviso offers its visitors a lot more. From the vineyards of the Prosecco region to the dreamy and picturesque mountain villages with great hiking potential and artistic masterpieces by Andrea Palladio and Antonio Canova, the region has the right programme for each visitor.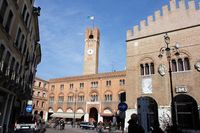 Piazza dei Signori
Travel guide to Treviso: Historic old town atmosphere of incomparable charm
Like so many other cities in the Veneto region, the city of Treviso has only a few unique attractions but offers its visitors a very interesting overall concept nonetheless. The historic old town is surrounded by a city wall, which is crossed by three canals. Historic houses, long arcades, river islands and numerous picturesque places and corners characterise the city of Treviso. It is certainly worthwhile taking a long walk through the old town to visit the main square, the cathedral, the fish market and many other sights. By the way, Treviso is also home to the famous fashion brands Benetton, Replay and Stefanel, which makes a stroll along the shopping streets more than worth it.
All interesting places as well as city tours through Treviso, hotels and accommodations can be found on the following pages.
Travel guide to Treviso: Tour through the famous Prosecco region
Beside the beauty of the provincial capital, the province of Treviso offers many attractive tourist destinations and attractions that are worth an excursion. Famous and picturesque hills and villages such as Asolo, Possagno, Andrea Palladio's famous Villa Barbaro and sculptures and works of art by Antonio Canova are just as much a part of the region of Treviso as the dense cone-shaped growing hills of the Prosecco region. The unforgettable climax of a tour through the region is a tasting of the fine Prosecco sparkling wine at one of the many winegrowers!
The ZAINOO online travel guide to Treviso offers a comprehensive platform with lots of information and tips for your stay in Treviso.