Online Travel Guide to Taormina
Holidays in one of the most beautiful cities in Sicily
Taormina is picturesquely perched on a rocky terrace high above the sea. The small town in a prominent location in front of the imposing backdrop of Mount Etna has been a popular destination for tourists from around the world for centuries. The most famous attraction in the city and also one of the main attractions of Sicily is the Greek theatre. The sight of the ancient theatre is amazing. The immediate area of the city also offers romantic gorges, the ruins of the first Greek city in Sicily, famous film locations, beaches and a variety of further attractive destinations. Reason enough to plan a visit to the town of Taormina.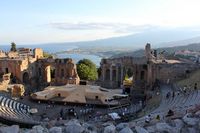 The Greek theatre
Travel guide to Taormina: Holidays on the east coast of Sicily
Taormina is located high above the Ionian Sea on a rocky terrace and has been the most visited destination in Sicily for hundreds of years. Historic luminaries such as Goethe raved about the picturesque town, which is set in the impressive landscape between the sea and Mount Etna. Crowds of tourists still push their way through the small town, but without affecting the unique atmosphere of Taormina.
The main attraction of the town and probably of all Sicily is the Greco-Roman theatre, which is located on the tip of the rocky terrace above the sea. In addition to the theatre, many other attractions, such as the Cathedral of San Nicola, the Corso Umberto and the small Odeon, are worth a visit. The best way to explore the small town is a leisurely walking tour.
All interesting places, tours, hotels and accommodation in Taormina can be found on the following pages.
Travel guide to Taormina: Daytrip destinations on the east coast
The region around Taormina is known for its beaches and resorts. From Giardini Naxos to Taormina, Letojanni and Santa Teresa di Riva you will find numerous bays and some excellent lava gravel beaches. Cultural and active holidaymakers will also get their money's worth around Taormina. Whether in the romantic Gola dell'Alcantara gorge, the ruins of the first Greek colony in Sicily in Naxos or on the locations of the film The Godfather in Savoca - Taormina offers an appropriate program for every taste.
The ZAINOO online travel guide to Taormina provides a comprehensive platform with lots of information and tips for your stay in Taormina and surroundings.