Online travel guide to the upper Adriatic
Holidays by the Adriatic Sea
Miles of sandy beaches, amusement parks, hotels, holiday villages and campsites along the long coastline – a beach holiday by the Adriatic is for many one of the highlights of the year. Since the 1950s, the region from Trieste to Venice has attracted numerous tourists each year who fill the beaches in search of relaxation. Despite recurring problems, the resorts along the beautiful sandy beaches have developed into veritable tourist strongholds. Excellent facilities and many sports and leisure activities lie in wait for guests. In addition to this leisure activity programme, you can also enjoy the immediate vicinity of the lagoon city of Venice – a holiday destination that can only be described as a tourist driving force in Italy.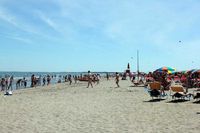 Beach paradise
Travel guide to the upper Adriatic: bathing on the beautiful beaches of Veneto and Friuli
The great beaches along the Adriatic coast are a bathing paradise that is especially popular among Austrians and Germans. Between Grado and Venice and further south of the lagoon city are miles of sandy beaches which attract new holiday crowds from both northern European countries and within Italy every year. A well-developed tourist infrastructure as well as numerous hotels, holiday villages and campsites guarantee a perfect summer holiday. The extremely flat sandy beaches are perfect for children to splash and play, but adults too will find rest and relaxation and can cool down here. With water temperatures up to 26 degrees, the Adriatic also offers agreeable swimming temperatures for people sensitive to cold water.
The best resorts, hotels and accommodation between Venice and Trieste can be found on the following pages.
Travel guide to the upper Adriatic: From Trieste to Venice
In addition to bathing fun, the region around the upper Adriatic offers numerous alternative options, including fun pools, fun parks and theme parks around Jesolo, Caorle and Lignano. Bibione even has its own spa. In the south of Chioggia and Grado, lagoons and the Po Delta attract visitors for a trip. In terms of uniqueness, the lagoon city of Venice, which is in a magnet for visitors every season, is hard to beat. Few in number are the tourists who do not fall in love right away with the beautiful city on the water. But Trieste also offers many attractions and is well worth a visit. If that's not enough for you, the nearby cities of Padua, Aquileia and Udine also offer cultural opportunities.
The ZAINOO online travel guide to the upper Adriatic is a comprehensive platform with lots of information, routes and tips for your holidays.