Online Travel Guide to Enna
Discover Enna and the surrounding area
Referred to as the navel of Sicily since ancient times, Enna is the capital of the province of the same name and enjoys a charming location perched on a ridge. The small town impresses visitors with panoramic views in the heart of Sicily and one of the largest Sicilian forts and an ancient Greek temple. On the nearby Piazza Armerina you can find some of the most famous Roman mosaics in the world in the Villa Romana del Casale. More than enough reasons to visit this small town in the heart of Sicily.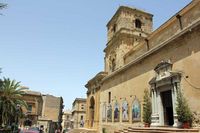 Cathedral of Enna
Travel guide to Enna: The navel of Sicily
Enna has been known as the navel of Sicily since ancient times. The city owes its name not only to its seemingly impregnable position on a ridge, but also on account of the central sanctuary of the Demeter, which quickly made the city the centre of the cultural and religious life of the island. The city has lost much of its former glory to be sure, but Enna can still charm its visitors with one of the largest castles in Sicily and a beautiful cathedral. A short trip to the provincial capital is certainly worthwhile and you can explore the main sites on a roughly 2-hour walk.
All interesting places, city tours, hotels and accommodation in Enna can be found on the following pages.
Travel guide to Enna: Travelling in the heart of Sicily
A trip to the province of Enna is worthwhile, both for sporty types and for cultural enthusiasts. On foot or by mountain bike, the region offers active holidaymakers numerous delightful trails through the hilly landscape in the heart of Sicily. But culture enthusiasts and tourists will also find a varied program in Enna. Whether you're visiting the mountain towns in the hilly north, the cave dwellings in Sperlinga or the excavations of the Siculi city in Morgantina, the province of Enna has the perfect program for every taste. Of course, you should definitely not miss a visit to the beautiful and world-famous mosaic floors in the Villa Romana del Casale in Piazza Armerina – a highlight and a must see on every Sicily tour.
The ZAINOO online travel guide to Enna provides a comprehensive platform with lots of information and tips for your stay in Enna.