Bologna online travel guide
Where history is palpable
Bologna's fascinating history begins approx. 3,000 years ago when the Late Bronze Age Villanova cultures built first settlements on today's urban area. Emilia-Romagna's capital saw a mighty boom as a node of transport located at the newly built Via Emilia in Roman times and was expanded constantly. After the fall of the Western Roman Empire many rulers came and go, such as the Byzantines, Lombards and Goths. It wasn't until the Investiture Conflict and its consequences that the Metropolitan City gained traction again.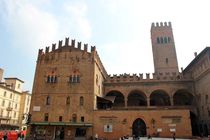 Piazza Maggiore
Bologna travel guide: students' city and Papal States
Bologna found a great way to hold its ground and to avoid perils during the Investiture Conflict. As a free commune ruled by different noble families the city experienced a construction boom. Beyond the many dynasty towers, which have mostly disappeared since, many buildings had storeys added to ideally use the space available for the constantly growing population. The University of Bologna, the oldest university in the world, was founded in 1088. By the end of the 13th century around a fifth of the city's inhabitants were students –pretty much the same as today. While Bologna's incorporation into the Papal States stunted its economic growth, arts and science virtually blossomed. The city eventually became a part of Italy when the country was united.
Bologna travel guides: tours to the surroundings
Bologna is surrounded by one of the most fascinating regions of the entire Emilia-Romagna. Physics Nobel laureate Guglielmo Marconi spent his youth in Pontecchio Marconi before returning here in his later life to conduct his prizewinning radio pioneer work. Small remnants of his experiments are still hidden away in the garden of the Marconi villa. Marzabotto is home of the most important Etruscan settlements with remarkable insight into this old culture at the excavation site and in the adjacent museum. Motor sports enthusiasts are enthralled by the myth of Imola and discover the historical significance of this town during a walk. Dozza is right outside Imola. The imposing fortification and the painted walls turn the place into an open-air museum of sorts.
The ZAINOO online travel guide finds the quickest routes to the most beautiful spots of Bologna and the most fascinating destinations in the sweeping hinterland in no time. City walks combine touristic hotspots with insiders' tips. Registered users even create their own tours – ideal for brief visits and longer stays. Isn't a holiday in Emilia-Romagna lovely?