Online travel guide to Lake Garda
Holidays at Lake Garda
Lake Garda is not only the largest but also one of the most popular lakes in Italy. Large numbers of sports and beach lovers in particular spend their holidays every year at the lake. The reasons for this include the magnificent mountain and lake panorama and perfect wind conditions that prevail almost every day at the lake. Thus conditions are optimal for kite and windsurfing, sailing and paragliding. But also mountain bikers and seaside holidaymakers will find their holiday paradise here. All those who prefer a quiet stay can relax in the sun or consume a bit of culture in the villages around the lake or in nearby in Verona. In short, the lake is surely one of the most diverse holiday destinations in Italy.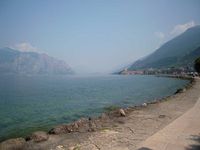 Holiday paradise in northern Italy
Lake Garda travel guide: sports paradise in the north of Italy
Two winds explain why the lake Garda is so popular especially among surfers and sailors. The Ora from the south, which starts in the late morning and blows until the early evening hours and the north wind Peler, which is active at night and in the morning. Particularly in the northern part of the lake, which is closed to motor boats, optimal conditions prevail for water sports of all kinds. This part of the lake is literally teeming with windsurfers, kite surfers and sailors as well as paragliders. But also beach lovers and divers are around the lake, especially in the summer months. Despite the extensive water sports programme, the area around Lake Garda also offers numerous sports. The surrounding mountains and hills are a favourite retreat of mountain bikers, hikers, tennis and golf players and motorcyclists.
The best resorts, hotels and accommodation around the lake can be found on the following pages.
Lake Garda travel guide: on the road in the foothills of the Alps
In addition to the extensive sports programme, the region around Lake Garda impresses visitors with its unique natural scenery with beautiful mountain ranges to the north and plains to the south. The Monte Baldo on the eastern shore is also home to many unique and rare plant species that can only be found here in this density. On the western shore the high plateaus of Tignale and Tremosine are ideal for hiking and walking. Despite mass tourism, there are also some culturally interesting places around the lake, including medieval old towns in Riva, Sirmione and Malcesine, mighty Scaliger castles, beautiful promenades, lemon groves, monasteries, mills and more. With its sunken galleons and other interesting attractions, the underwater world also offers attractive sightseeing tours. If all of this isn't enough already, the nearby cities of Verona, Brescia and Trento offer more cultural opportunities.
The ZAINOO online travel guide to Lake Garda is a comprehensive platform with lots of information, routes and tips for holidays to the region.