Online travel guide to Rovigo
Explore Rovigo and the surrounding area
Rovigo is the agricultural and industrial centre of the Polesine and the province of Rovigo. Even if the city cannot compete with its northern neighbours of Veneto such as Venice, Verona and Padua at first glance, Rovigo does have its own unique charm. Particularly the historic ambiance of the old town and the scenic beauty of the Po delta are worth a visit. From a simple stroll to an exciting city tour through the Po Delta, the region has the right thing to offer every visitor.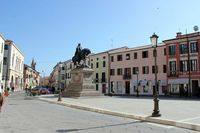 Piazza Garibaldi
Travel guide to Rovigo: Historic ambience and largest collection of paintings in Veneto
Although Rovigo does not offer the same wealth of attractions as its northern neighbouring cities in Veneto, it offers its visitors a number of places which make visiting the small town worthwhile. Especially the historical ambience of the old town around the Piazza Vittorio Emanuele II and one of the best collections of paintings in the Veneto region in the local art gallery are absolute highlights during a visit to Rovigo. ZAINOO offers travellers an array of background information for travel planning and ensures that you do not miss any of the important attractions. All interesting places as well as city tours and tours through the Po Delta, hotels and accommodation can be found on the following pages.
Travel guide to Rovigo: Starting point for trips to the Po Delta
Rovigo provides an especially good starting point for round trips through the beautiful Po Delta and the Polesine for nature lovers and sports enthusiasts. By car, bike or canoe you can explore the river delta – the many dams, narrow streets and endless reed beds are a very special travel experience. With the Spiaggi di Boccasette, the Spiaggi di Barricata and the Isola Albarella there are also very attractive beaches for a relaxing beach holiday in the rather undeveloped Po Delta far away from mass tourism.
The ZAINOO online travel guide to Rovigo offers a comprehensive platform with lots of information and tips for your stay in Rovigo.