Mount Etna
Europe's largest and highest volcano
Etna is the largest and at the same time highest volcano in Europe. With a diameter of about 40 kilometres it covers an area of almost 1,400 square kilometres. Since time immemorial many legends and myths have surrounded the fertile fire mountain and in spite of the numerous eruptions and waves of destruction people have lived around the volcano since the earliest settlements in Sicily. Even today, many suburban communities are dangerously close to the main craters and numerous tourists converge around the volcano.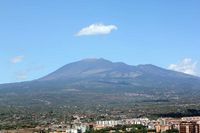 Fire mountain near Catania
Mount Etna - Europe's largest volcano
Etna is Europe's largest active volcano. It has a diameter of 40 kilometres and covers an area of 1,400 square kilometres. Mount Etna arose around 700,000 years ago on the tectonic fault line that runs from the Lipari Isles over the east coast of Sicily to the Hyblean Mountains. In the last 400 years approximately more than one billion cubic metres of lava have flown from its 4 major active craters and numerous columns. The lava itself comes from the upper earth mantle, which is 70 to 120 kilometres deep, and from numerous cavities and reservoirs within the giant volcano.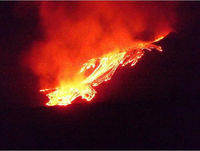 Eruption
Colonization, myths and natural disasters
Due to its fertility, the region around Mount Etna has always been an area for settlement. Despite the constant eruptions, people have repeatedly dared to colonize the area around the fire mountain. The first recorded eruption of Mount Etna in 1500 BC dispersed the Sicans from the Sicilian east coast. In Greek mythology, the workshop of the blacksmith god Hephaestus is located in Mount Etna. Its legendary and mythical stature, however, was matched by its destructiveness. 150 huge eruptions have been recorded since ancient times, which brought death and destruction for the surrounding towns and settlements. The last catastrophic eruption was in 1669, when Catania was completely destroyed.
It is worth noting the more recent eruptions in 1989 and 1992, where Zafferana Etnea barely escaped the destruction, and those in 2002 and 2003.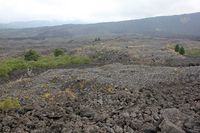 Cold lava streams
Mount Etna as a tourist magnet and environmental polluter
Even between the major eruptions, Mount Etna spits fire, ash and smoke several times a year and has therefore become one of the biggest tourist attractions in Sicily. Every day many tourists tour on foot, by car or cable car up the fire mountain and thousands of tourists enjoy the crater scenery and the columns of smoke. Even a small ski area can be found on Etna. Nevertheless, Etna poses a hazard not only to humans but nature as well - 25 million tons of carbon dioxide escape into the atmosphere annually, making Etna one of the biggest polluters on earth.