Dolomites Online Travel Guide
Holidays in the Dolomites
The Dolomites stretch in the north of Italy over the three provinces of South Tyrol (Alto Adige), Trentino and Belluno in Veneto. They are undeniably one of the most beautiful and diverse mountain regions of Europe. Karst, steep peaks, magnificent mountain views as far as the eye can see and lots of sporting opportunities. Especially for hikers, skiers and mountain enthusiasts of all kinds, the Dolomites are a true holiday paradise. Many well-known ski resorts and countless biking and hiking trails run through the valleys and over the mountains of the Dolomites: a dream for anyone planning a stay in Italy's most beautiful mountain region.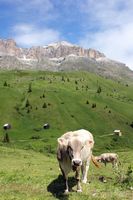 Passo Pordoi
Dolomites travel guide: The mountains and valleys of the Ladin
Around the Sella massif lies the core settlement area of the Dolomite Ladin. There are also the popular holiday valleys such as the Val Gardena, Val Badia, the Fassa valley and Fodóm; however, the other Dolomites valleys and mountain ranges also have a lot to offer. From the lively tourist centres, over fantastically beautiful natural landscapes, to deserted mountain ranges, you will find nearly everything here. Anyone who wants to get an idea of the splendour and diversity of the Dolomites should take the Great Dolomites Road. It leads from Bolzano through the heart of the Dolomites to Cortina d'Ampezzo. It is a fantastic tour, by all means worth taking.
All interesting places and resorts as well as the main valleys, mountains, hotels and accommodations in the Dolomites can be found on the following pages.
Dolomites travel guide: Sports paradise in the north of Italy
In addition to the beautiful nature and the culture and tradition of the Ladin-speaking people, the Dolomites are especially well known for sports. The Dolomites are a world-renowned paradise for hikers, mountain bikers, climbers, skiers and mountaineers of all kinds. Famous world cup skiing locations like Cortina d'Ampezzo, Selva and Alta Badia attract visitors as well as the lovely medieval towns of Bruneck, Innichen and Brixen. The compound "Dolomiti Superski" in the centre of the Dolomites offers over 1200 km of slopes and over 500 lifts. The huge number of hiking and biking trails is without comparison. The beautiful scenery of the Dolomites is also worth visiting for non-athletes because the karst peaks of the Dolomites are unparalleled the world over.
The ZAINOO online travel guide to the Dolomites offers a comprehensive platform with lots of information, routes and tips for your holiday in the heart of this beautiful mountain region.