Online travel guide to Rome
Experience and explore the Eternal City
All roads lead to Rome – this is not the only reason that Rome is the most popular and visited city in Italy. The unique atmosphere of the Eternal City, with its numerous attractions and the rich historical heritage, attracts visitors. Roman ruins and temples, baroque palaces, romantic squares and fountains, countless churches and museums as far as the eye can see. If that's not enough, all of Lazio with its treasures and attractions awaits you. ZAINOO gives information not only about the highlights of the city, but also provides numerous tips and leads the visitor to places off the busy tourist routes.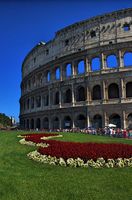 Colosseum
Travel guide to Rome: A visit to the Eternal City
Rome - the Eternal City - is not only the capital of Italy and former centre of the Roman Empire, but also the cradle of European civilization and the heart of Western Christendom. In addition, the city itself is a unique museum with awe-inspiring attractions from all periods of history. The fusion of this rich historical and religious heritage with the life of a modern and vibrant city gives Rome a very unique flair that is well worth discovering.
ZAINOO not only offers a lot of background information for travel planning, but also comes with numerous tips and interesting information material so that you can enjoy your stay in Rome to the fullest. All interesting places and attractions, as well as city tours, hotels and accommodations can be found on the following pages.
Travel guide to Rome: On the road in the province of Rome
If Rome is not enough and you have a little time to explore the surrounding area of the Eternal City, you will find in the province many beautiful sights and places which are worth visiting. From the coast and the ruins of the ancient port Ostia over the many picturesque towns and villages in the Alban Hills to the imperial villa at Tivoli you will find many destinations that are well worth visiting. Lovers of Roman and Italian cuisine can also look forward to many titbits in Rome. Bruschetta, Penne all'Arrabbiata or Saltimbocca alla Romana are served with fine wines from the Roman countryside.
The ZAINOO online travel guide to Rome provides a comprehensive platform with lots of information and tips for your stay in the Eternal City of Rome.