Attractions in Sicily
Highlights on the largest island in the Mediterranean
Sicily is the largest island in the Mediterranean Sea and has many interesting towns and places and a wide variety of scenic attractions. The scenic highlight is, in addition to the beautiful beaches, of course the greatest active volcano in Europe – Mount Etna. Sicily also provides an historical and cultural wealth of attractions for its visitors. As a hub between East and West, the island was home to many peoples and cultures, all of whom have left their mark on Sicily, making every visit to Sicily a real highlight.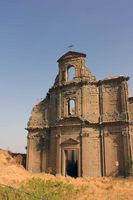 Ruins of a church
Highlights and attractions in Sicily
If you think of Sicily, beautiful beaches and Greek temples immediately come to mind. Indeed, Sicily is not only excellent for a bathing holiday but also a good place for sightseeing. The many indigenous cultures have left much evidence here of their former presence. In Taormina, Siracusa, Agrigento and Selinunte you can find well preserved Greek temples and theatres, which can't be found even in Greece. Romans, Normans and Spaniards also left many beautiful villas, like the Villa del Casale in Piazza Armerina, with its magnificent mosaics and castles and forts.
In addition to these historic buildings and ruins, the cities of Sicily are also worth a visit. Above all, the capital of Palermo, the black volcanic city of Catania, Syracuse, Cefalu as well as many small picturesque towns on the coasts and on the hilltops in the interior. Particular highlights are the Baroque towns of Noto, Avola, Granmichele and Pachino, or the Bronze Age necropolis Pantalica.
Scenic Highlights
No less interesting is the Sicilian countryside. While in the north a mountain range runs along the coast, the island's interior consists of mountain and hill country which leads in the south and west to beautiful coasts, ideal for swimming and relaxing. The undisputed highlight and at the same time magical attraction in the north east is, of course, Mount Etna, Europe's largest active volcano. If you are lucky, you may see one of the many smaller eruptions. Scenically attractive and also home of countless summer visitors are the 37 larger and smaller islands around Sicily. Many of them are of volcanic origin and accordingly beautiful.
In addition to its natural attractions and beautiful beaches, Sicily especially thrills its visitors with outstanding natural attractions and culinary delights.