Journey to Syracuse
Ancient Greek city in the south of Sicily
In ancient times, Syracuse was the most powerful and largest city in Sicily for centuries and, during Greek times, even in the whole Greek world. No wonder a journey to Syracuse is like a trip to the Greek era of Sicily in many places. Greek theatre, catacombs, ancient quarries and Greek temples make the city a highlight of any trip to Sicily. With beautiful Baroque cities, Roman villas and Siculi necropolises, the province offers numerous interesting attractions.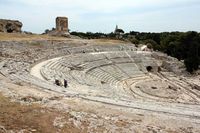 Greek Theatre
Greek stronghold in Sicily
A journey to Syracuse is a trip into the history of Sicily. The island of Ortigia with the old town of Syracuse was the starting point of the Greek colonization of the province and still offers numerous impressive attractions for its visitors. Whether the Apollo temple, the cathedral or Castello Maniace - the old town of Syracuse is definitely worth a visit. Undoubtedly one of the highlights of the city is the Archaeological Park with the Greek Theatre, the ear of Dionysius, the latomie and the Archaeological Museum, which houses the most important finds of eastern Sicily.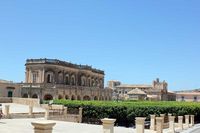 Noto
Journey through the province of Syracuse
The province of Syracuse offers its visitors, outside its capital, a variety of attractive and worthwhile daytrip destinations. The nearby Hyblean Mountains are not only a fantastic hiking area, but are also home to a first-class attraction: Pantàlica, the city of the dead. There are more than 5,000 tombs and early Christian churches to explore here. As a consequence of the severe earthquake in 1693, numerous cities in the province have been razed to the ground. Many of the reconstructed baroque cities like Noto and Avola are now a UNESCO world heritage site and should be considered necessary in any itinerary. Thus, Syracuse provides a wide variety of attractive destinations for its visitors and is a must for all travellers to Sicily.