Walking tour through Syracuse
ZAINOO shows you the most beautiful places in Syracuse
Whether you have time only for a short walk through Syracuse or a whole weekend to spend in the city or visiting the region around the city and the Hyblean Mountains, ZAINOO offers every traveller the perfect program. From the beautiful, gleaming white old town of Syracuse, the remains of the ancient Greek colonies through the cave city Pantàlica to the Baroque cities of Noto and Avola - with ZAINOO you won't miss any of the major attractions of the region.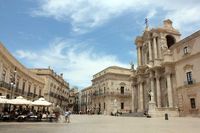 Cathedral square with cathedral
Experience the most beautiful places in Syracuse
A trip to Syracuse and the surrounding area is equivalent to a journey into the ancient world. Several monuments, archaeological sites, historic buildings and many attractive places are waiting to be explored during a walking tour through Syracuse. First and foremost, the Archaeological Park with the Greek Theatre as well as the unique exhibits of the Archaeological Museum attracts visitors from all over the world. The old town, with its magnificent cathedral and the picturesque, white limestone buildings, is also inspiring. If you want to look deep into the Greek history of Sicily, Syracuse is the perfect place.
En route in the Hyblean Mountains
The province of Syracuse and the nearby Hyblean Mountains offer a variety of attractions and highlights. Whether in the caves of the necropolis Pantàlica, the ruins of Megara Hyblaea and the Castello Eurialo, or in the baroque towns of Noto and Avola, which were rebuilt after the earthquake in 1693, Syracuse offers a number of interesting and exciting destinations for visitors.
ZAINOO walking tour through Syracuse
No matter how long you stay in Syracuse and which general program you choose, you should not miss the main sights and attractions. The route suggestions by ZAINOO make sure that you do not miss any of the many highlights of the region. Whether you take a short trip and a walking tour through Syracuse, a weekend or even a few days, the ZAINOO route suggestions lead to the main attractions and offer many insider tips and information which show you the less touristy side of Syracuse.