Ávola
Place of Interest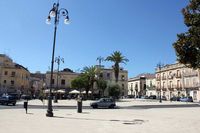 Main square
Ávola
Baroque city in the southwest of Sicily
Ávola is a small town in the southwest of Sicily. The popular spa and resort town relies on the income from tourism and agriculture. Wine and almond production are among the main sources of income. Just like Noto, the original Ávola (Ávola Vecchia) was completely destroyed by the earthquake in 1693. About 8 kilometres from the original city, Ávola was rebuilt as a Baroque city at the end of the 17th Century and in the early 18th Century. The old town is still based on a hexagonal plan.
Attractions in Ávola
The main streets of the city meet at the main square of Ávola, the Piazza Umberto I. Just off the piazza is the Mother Church of San Nicola, the central church of the city and the Museo Civico. Along the outer hexagonal rings you will also find some beautiful squares with greenery. The baroque church of St. Anthony Abbate at the Piazza Regina Elena is worth seeing.
There are bathing facilities and beautiful beaches along the coast in the northeast and southeast of the city.