Greek rule in Syracuse
The Rise and Fall of the ancient metropolis
The Greek colonization of Syracuse began around 734 B.C. by colonists from Corinth. In only two centuries, Syracuse developed into the largest city in the Greek world. As the first Sicilian territorial state, the Greek metropolis expanded its influence over large parts of the Mediterranean before it slowly came to an end in the dispute between Carthage and Rome.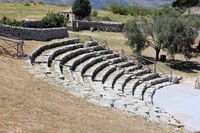 Greek Theatre
Greek colonization of Syracuse
The island of Ortygia - now the centre of the old town of Syracuse - was settled very early by Sicels and was also the starting point of Greek colonization of Syracuse. Colonists from Corinth landed here in 734 B.C. and expelled the resident Sicels. The island was quickly extended to a city and the adjacent headland also colonized. After a few decades the colonists founded more daughter cities like Akrai, Kasmenai and Kanarina. The economic prosperity of the city attracted more and more people to Syracuse and the city developed into a major city. With 500,000 inhabitants, it was already the largest city in the Greek world in the 5th Century B.C.
Heydays and greatest power expansion
After an uprising of Siculi serfs in the early 5th Century B.C., Gelo of Gela took part in the conflict and conquered Syracuse in 485 B.C. He established the first tyranny and Syracuse became the capital of an eastern Sicilian territorial state. Followed by a period of great prosperity, Syracuse steadily extended its influence. The city celebrated its greatest successes as Gelo defeated the Carthaginians at Himera in 480 B.C. and his brother Hiero I defeated the Etruscan fleet in 474 B.C. In 450 B.C. Syracuse successfully suppressed a rebellion of the Siculi duke Ducetius before it finally came into conflict with Athens. In 427 and 415 B.C. the Athenians besieged Syracuse and were defeated both at sea and on land.
Castello Eurialo
End of the hegemony of Syracuse in Sicily
This great triumph of Syracuse, however, heralded the slow end of the dominance of the city. Carthage saw its chance for revenge and attacked the war-weakened Syracuse in 409 B.C. Selinus, Akragas and Himera fell to Carthage before Dionysus I could stop the rise of Carthage by clever contracts with Rome in 405 BC. He fortified Syracuse by a double ring of walls and the fort Eurialo and gave the city a second golden age of almost 100 years, which brought a great number of artists and philosophers (Archimedes, Plato, etc.) to Syracuse. After the death of Hiero II, who cleverly placed Syracuse between the rivals Rome and Carthage, the Romans finally attacked Syracuse and annexed it to the Roman Empire - Greek rule in Sicily was finally over.