Ear of Dionysius
Natural heritage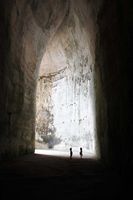 Inside the ear
Latomia del Paradiso - the Ear of Dionysius
Grotto with fabulous acoustics
The latomie are the ancient quarries from which the white limestone was extracted for the construction of Syracuse. The bizarrely shaped site is now overgrown with lush vegetation and offers a picturesque sight.
The largest and most famous quarry is the Latomia del Paradiso. The gigantic tunnel east of the Greek Theatre is 60 metres long, 5 to 11 metres wide and 23 metres high. Because of its fabulous acoustics, the quarry is also called "Ear of Dionysius". According to a legend, the tyrant Dionysius imprisoned his captives in the cave and overheard due to its excellent acoustics even the slightest conversation at the other end. Even if this is certainly just a legend, the tunnel amplifies every little sound quite a bit.
A few metres away there is the Grotto of Cordari, the rope-maker grotto. Due to the humid climate the rope-makers could store and process their hemp fibres here particularly well.
Entrance
Entrance via the archaeological park: € 8,-