Pantàlica
Archaeological site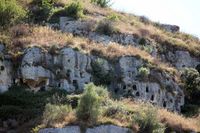 Cave tombs
The necropolis of Pantàlica
Amazing cave city in the Hyblean Mountains
The necropolis of Pantàlica is a fascinating cave town northeast of Palazzolo Acreide which is undoubtedly one of the highlights of a tour through Sicily. You can reach the cave town either from Palazzolo Arceide, Ferla or Sortino on small, winding roads. From the parking area well-marked trails, requiring a bit of a hike, lead to the grave caves.
The grave caves of Pantàlica
The tombs, carved into the limestone, date from different periods. In Pantàlica more than 5,000 tombs were carved into the rock between 1270 and 730 B.C. The oldest grave districts are located in the north and northwest. High above the valley of the Anapo river and the Cava Grande was once the capital of the Sicels, whose residents were buried in the grave caves. However, to date, only a single mansion, the Anaktoron, has been excavated, which can be visited.
In later times, Christians used the caves as dwellings and built some small chapels. The individual grave finds, such as ceramics, metalwork, skeletons and a Byzantine gold treasure are on display in the Archaeological Museum in Syracuse.