History of Syracuse
Greek metropolis in Sicily
Inhabited since the early days, Syracuse under Greek rule quickly became the largest city in the known world. As the most powerful city in Sicily, the tyrants of Syracuse ruled the island and the surrounding Mediterranean. After the death of Hiero II, the Romans conquered the city. With the fall of Rome, Syracuse gradually lost importance and once again became a major Sicilian city in the 20th Century.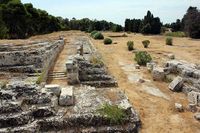 Altar of Hiero II
Early days and Greek rule
The island of Ortygia, where the old town of Syracuse is located, was the nucleus of ancient Syracuse. Siculi and Phoenicians had settled here from the 10th Century B.C. before being expelled by Greek colonists from Corinth in 734 B.C.. The Greeks turned the city in the next two centuries into the largest city in the Greek world. According to ancient reports, half a million people lived in Syracuse in the 5th Century B.C. In 485 B.C. Gelon from Gela conquered the city and made Syracuse the capital of an Eastern Sicilian state. Syracuse was the dominant power in Sicily and, controlled by tyrants, scored important victories against the Carthaginians and even Athens.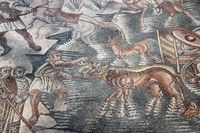 Mosaics in the Villa del Tellaro
Syracuse under the Romans
When the last great tyrant of Sicily, Hiero II, died, the rising Roman Empire conquered the city of Syracuse in 212 B.C. and incorporated it into the Roman Empire as the capital of the province of Sicily. The famous mathematician Archimedes also died in the great battle of Syracuse. After a visit of the Apostle Paul, Christianity soon took foot in Syracuse and the city flourished again until the fall of the Western Roman Empire, when Vandals and Goths conquered and sacked the island of Sicily. In A.D. 535 the Byzantines conquered Sicily and ruled the island until 878.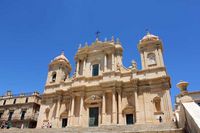 Baroque city of Noto
Syracuse from the Middle Ages to today
With the seizure of power of the Arabs in Sicily around 878, Syracuse lost its dominant role on the island. Palermo became the new capital and Syracuse even lost its status as capital of the province to Noto - the city became more and more impoverished in the coming centuries and slowly sank into insignificance. It remained this way until 1865, when Syracuse was again elevated to the status of a provincial capital and the convenient location made it an important port for the Italian colonial empire in the 20th Century. Subsequently a slow economic recovery began and the population recovered from 40,000 in 1921 to 126,000 in 2011. As an important industrial, agricultural and commercial centre, Syracuse is now a tourist attraction and thus again one of the major cities in Sicily.