Spaghetti alla Trapanese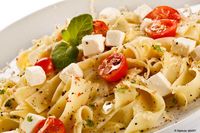 Spaghetti alla Trapanese
Spaghetti alla Trapanese
Spaghetti in the manner of Trapani
Spaghetti alla Trapanese is a variation of the famous Sicilian pasta, which is a tasty and easy variation to prepare.
Ingredients (4 people):
400g spaghetti
salt
1kg ripe tomatoes
2 garlic cloves
1 small bunch of basil
Sicilian pecorino cheese
pepper
Preparation:
Boil the spaghetti noodles in salted water until they are al dente. Peel the tomatoes and finely chop the garlic into small pieces, coarsely chop the basil and crumble the feta cheese. Mix with a little olive oil and season with salt and pepper and serve with the spaghetti.