Pesche ripiene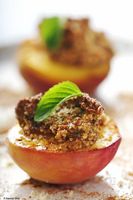 Pesche ripiene
Pesche ripiene
Stuffed peaches
A delicious dessert that is quick to prepare and suitable for many occasions.
Ingredients (4 people):
4 large peaches
80g amaretti (almond biscuits)
4 tablespoons Marsala (dessert wine)
2 teaspoons lemon juice
½ teaspoon ground cinnamon
1 egg yolk
2 tablespoons butter
8 skinned almonds
1 tablespoon powdered sugar
Preparation:
Halve the peaches, remove seeds and skin if possible. Soak the almond biscuits in lemon juice and marsala and mash with a fork. Stir cinnamon in egg yolks and place it in the peach halves.
Preheat the oven to 200 degrees, coat a baking dish with butter and place the peach halves in it. Place an almond on each peach, sprinkle with butter flakes and bake for about 15-20 minutes.