Pasta con le sarde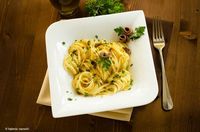 Pasta con le sarde
Pasta con le Sarde (alla palermitana)
Pasta with sardines
A typical Sicilian dish that displays the mix of different cultural influences in Sicily due to its ingredients.
Ingredients (4 people):
4 fresh sardines
250g fennel
2 onions
salt
1 pinch of saffron
pepper
olive oil
3 anchovy fillets
400g spaghetti noodles
50g raisins
50g pine nuts
Preparation:
Wash and fillet the sardines, coarsely dice the fennel, peel and dice the onions. Now cook the fennel in salted water and set the fennel and cooking water aside.
Fry the onion in olive oil, deglaze with a cup of fennel water and boil briefly. Stir in saffron and add olive oil until the mass thickens. Now fry the anchovies and sardines in a pan of hot oil over low heat.
Cook the spaghetti in the fennel water until they are al dente and toss in a bowl with saffron sauce, anchovies, raisins and pine nuts. Let it rest a few seconds and serve!