Pasta alla norma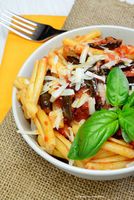 Pasta alla norma
Pasta alla norma
Pasta with aubergines
Aubergines have a long tradition in Sicilian cuisine. This traditional Sicilian pasta dish is savoury and easy to prepare.
Ingredients (4 people):
3-4 small aubergines
4-5 tablespoons olive oil
2 garlic cloves
500g chopped tomatoes
1 small bunch of basil
salt
pepper
400g rigatoni, macaroni or noodles
freshly grated pecorino / parmesan
Preparation:
Wash and cut the aubergines lengthwise into finger-thick slices. Sprinkle the aubergine slices with salt and drain the excess fluid. After about 30 minutes, rinse them under running water and pat the aubergine pieces dry. Cut the garlic into thin slices.
Now fry the aubergines in a pan with hot olive oil. Add garlic, tomatoes and basil leaves, season with salt and pepper and simmer for 10-15 minutes. In the meantime, cook the noodles in salted water until they are al dente and serve in plates with the sauce. Sprinkle with pecorino cheese and serve!