Melanzane alla siciliana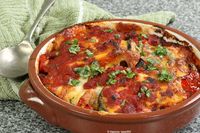 Melanzane alla Siciliana
Melanzane alla Siciliana
Sicilian aubergines
Tasty aubergines-tomato-cheese casserole that is quick to prepare and can be served on many occasions.
Ingredients (6 persons):
1.5kg aubergines
60ml olive oil
salt
pepper
1kg plum tomatoes from the can
oregano
1 bunch basil
750g freshly grated pecorino or Parmesan cheese
½ teaspoon granulated sugar
Preparation:
Peel and cut the aubergines lengthwise into 5 mm thick slices and chop the tomatoes. Heat the oil in a pan and roast the aubergine slices until they are golden brown on both sides. Season with salt and pepper and drain.
Wipe out the pan, heat 3 tablespoons of oil and bring tomatoes, oregano, 6 basil leaves, 2 tablespoons cheese, sugar, salt and pepper to the boil and let simmer for about 10 minutes. Preheat the oven to 190 degrees.
Now place the aubergines in a greased casserole dish, sprinkle with cheese and some basil leaves and sauce over layers. Add more layers until all ingredients are used up. Finally, bake it for about 15 minutes in the oven and serve hot.