Cassata Siciliana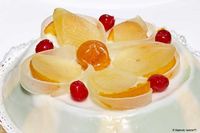 Cassata Siciliana
Cassata Siciliana
Sicilian dessert
The cassata is a mixture of sponge cake and ricotta, which becomes a different colour with the addition of liquor. Previously served mainly on feast days, it is now one of the most popular desserts in Sicily.
Ingredients (6 persons):
1 sponge cake or pie
For the filling:
450g ricotta
6 tablespoons sugar
1 teaspoon vanilla extract
2 tablespoons orange liqueur or rum
50g dark chocolate
150g candied fruits
For the glaze:
100g icing sugar
2-3 tablespoons of coloured water (with spinach)
For garnish:
Candied fruits, marzipan, chocolate granules, almonds, ....
Preparation:
Set up a round bowl with plastic wrap. Slice the sponge cake into slices and lines and put them into the bowl. Cut the chocolate and the candied fruit into small cubes. Mix the ricotta with the sugar, vanilla sugar and liqueur into a thick cream and stir it with the chocolate and the fruits. Fill in the bowl, cover with the sponge cake and set the bowl in the refrigerator for at least 4-5 hours.
Put the cooled cassata onto a plate. Mix powdered sugar with the coloured water and brush the cassata. Finally garnish with fruits, chocolate and marzipan as desired.