Broccoli alla Siciliana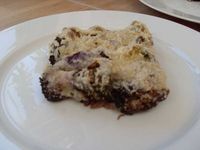 Broccoli-cheese casserole
Broccoli alla Siciliana
Broccoli in Sicilian style
Broccoli alla Siciliana is a broccoli-cheese casserole, which is relatively quick to prepare and tastes excellent.
Ingredients (6 persons):
750g broccoli
1 onion
salt
pepper
80ml olive oil
125ml red wine
12 olives
3 anchovy fillets
250g grated mild provolone cheese or similar cheese
Preparation time:
1 hour 15 minutes
Preparation:
Peel the onion and cut it into 5mm thick slices, chop the broccoli in florets, chop the anchovy fillets and chop the olives, removing the pits. Put two tablespoons of olive oil in a large frying pan and fry the onion pieces until they're golden brown and put them aside. Put another 2 tablespoons of olive oil into the pan and fry the broccoli for 5-6 minutes. Season with salt and pepper, add wine and simmer until the wine has evaporated.
Preheat the oven to 190 degrees. Grease a casserole dish with olive oil and distribute the roasted onion pieces. Put the layers of broccoli on the onion and sprinkle with olives, anchovies and cheese. Pour a little bit of olive oil on it and bake it for about 12 minutes until the cheese is melted. Arrange on plates and serve.