St. Nilus
Monastery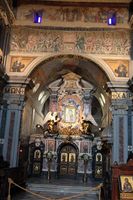 Byzantine altar
Fortress Abbey of St. Nilus
Most important monastery of the Castelli Romani
The Fortress Abbey of St. Nilus (Abbazia di San Nilo) is the most important monastery of the Castelli Romani. It was built in the 11th Century by the Byzantine monk Nilus and their monks still celebrate worship in an oriental rite. After the monks recognized the Pope in Rome as head of the church, St. Nilus is the only church that follows the Greek Orthodox rite with permission from the Vatican. In the 1000 year long history of the monastery, a great deal of impressive historical evidence has been obtained which you definitely should not miss.
Attractions in the Abbazia di San Nilo
You enter the fortress Abbey of St. Nilus over a drawbridge and reach the first atrium through the main gate. If access to the monastery is closed, just ring the bell - a monk will then open the door and let you in. Worth seeing in the monastery area is the Renaissance cloister. The attached museum houses antique finds and liturgical objects from the Abbey. Back in the courtyard, you will finally reach the church. Several sights deserve special attention here.
Already in the porch you should take a look at the Byzantine font from the 11th Century. On the relief around the basin, the Byzantine rite of baptism is very well presented. In the nave, the marble portal and the colourful mosaic deserve special attention. The interior of the church was rebuilt in Baroque style in the 18th century, but it still contains many Byzantine elements. Also worth seeing is the iconostasis, the three-door picture wall in the sanctuary area, which was designed by the Italian master Bernini. The icon of the Virgin Mary is noteworthy as it was painted on a gilded wood panel. It probably dates from the 11th Century and after several church lootings it came back to the monastery in 1230.
Of particular importance is the Crypta Ferrata, the first chapel in the right aisle. It once belonged to a Roman villa and inspired the holy Nilus to build the monastery. The walls of the crypt remain unchanged from the former Roman villa. The neighbouring Sacrament chapel is dedicated to St. Nilus and St. Bartholomew, whose relics are also kept here.
Grottaferrata and surroundings of St. Nilus
The fortress Abbey of St. Nilus belongs to the local area of Grottaferrata. Roman noble families from the 16th and 17th Century had grandiose villas here for the weekend. The most beautiful villa is the Villa Grazioli. It has been extensively renovated and is now an elegant hotel with a large park.
Opening hours
Monday 9.00-19.30 |
Tuesday 9.00-19.30 |
Wednesday 9.00-19.30 |
Thursday 9.00-19.30 |
Friday 9.00-19.30 |
Saturday 9.00-19.30 |
Sunday 9.00-19.30 |