Economy and Politics in Rome
Administration and economic importance of the city
The city of Rome currently has 2.8 million inhabitants which makes it the largest city in the country. Most of them immigrated in recent decades. With the Vatican, the smallest country in the world is within the Roman territory. The leading industry in Rome is not surprisingly tourism. Several million tourists visit the city of Rome and the Vatican every year. Besides tourism, Rome also has a vibrant fashion industry as well as a thriving agriculture sector.
Population and political divisions in Rome
Italy's capital Rome is home to around 2.8 million people in the immediate urban area and to 3.3 million with the surrounding municipalities. This was not always like that. In ancient times Rome had about 1 million inhabitants - this number decreased to less than 25,000 in the Middle Ages. Only with the return of the popes, the population increased to about 700,000 in 1921. Through intensive influx from the countryside and from the poorer southern provinces, the population of Rome has almost quadrupled in the last 80 years.
Rome itself is built on the legendary Seven Hills and, with the Vatican in its boundaries, contains the smallest country in the world. The historic centre is divided into 22 districts (Rioni) and extends from the Tiber River in the west to the east city wall. 18 other districts (Quarters) and 11 suburbs are spread around the historic centre.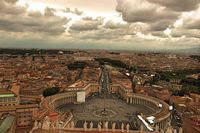 Tourist attraction: The Eternal city
Economic pillars of Rome
The economic pillar of Rome is not surprisingly tourism. Millions of tourists annually come into the town to see the historic buildings, fantastic museums and the Vatican. The Vatican, the Colosseum, Roman Forum and the important places are therefore usually well attended.
Although Rome was the leading economic and commercial centre of the entire Mediterranean in ancient times, it lost that status straightaway with the end of the Roman Empire and was never able to resurrect those glory days thereafter. It is only as an arts and cultural metropolis that Rome still enjoys a worldwide reputation. In addition, Rome still plays an internationally important role in the fashion industry as well as in the film industry. Despite 3.3 million inhabitants in the agglomeration and a lack of jobs adequate and efficient industry has yet to settle here.