Ostia Antica
Archaeological site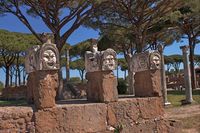 Roman theatre
Ostia Antica
Main port of ancient Rome
Originally the Tiber flowed into the sea precisely at the spot where the Romans founded the ancient port city of Ostia in the 4th Century B.C. The name itself is derived from the Latin word "ostium" for estuary. If the city and its citadel initially was meant only to protect the capital city of Rome against pirate attacks and protect the coast, with the increasing expansion of the Roman Empire Ostia became increasingly vital for Rome itself. With more than a million inhabitants, the capital could no longer take care of itself and depended on food and raw materials from the colonies that were unloaded in commercial vessels in Ostia and transported to Rome. With the end of the Western Roman Empire, Ostia became less important and was probably forgotten and abandoned in the 5th Century. Because of embankments of the Tiber River, the city is no longer located directly at the sea, but five kilometres inland.
Attractions in the archaeological park of Ostia Antica
The archaeological park in Ostia Antica is one of the most impressive archaeological sites in Italy and offers next to Pompeii the best insight into the world of the ancient Romans. You enter the ancient trading town through the Porta Romana, from where the main road, the Decumanus Maximus, runs through the town. The remains of 4-5 storey residential and commercial buildings as well as public institutions are located along the streets. Right at the beginning of the main street, you can see an antique store on the right hand side and the statue of Minerva Victoria on the left side. Right behind on the right side you can find the remains of the Terme di Nettuno with a beautiful mosaic of the sea god and the amphitheatre of Ostia. It was built by the Emperor Augustus and expanded by Septimus Severus. From the upper rows of seats you have a good view over the excavations.
A little further along the road, where the second main road of Ostia, the Cardus Maximus, crosses, the Forum Capitolium, the religious and political centre of the ancient market town, is located. Here, some of the most important buildings of the city are lined up: The mighty Capitol from the 2nd Century, the Horrera Epagathiana, a powerful storage house, the only Christian basilica, which was discovered in Ostia and the Domus di Amore e Psyche, a typical residential home with a beautiful marble floor. The Terme di Porta Martina is situated southeast of the forum. In the Museo Ostiense exhibits of the excavations are on display.
Opening hours
Monday | closed
Tuesday 8.30-18.00 |
Wednesday 8.30-18.00 |
Thursday 8.30-18.00 |
Friday 8.30-18.00 |
Saturday 8.30-18.00 |
Sunday 8.30-18.00 |