Walking tour through Rome
ZAINOO shows you the most important attractions in Rome
It does not matter if you only have one day in Rome and time for a short city walk, a whole weekend in the city or even several days - ZAINOO offers for each visitor in Rome the perfect program. From the picturesque alleys of the Roman Forum, through the numerous churches, palaces, museums and squares to the Colosseum, the Vatican and the Castel Sant'Angelo, none of the major attractions is omitted - valuable works of art, adventure stories and a lot of idyllic places are included.
The most beautiful places in Rome
The great historical heritage of Rome alone offers so many beautiful attractions that you would be hard pressed to see everything in even a week. In addition, many other historic buildings, fine paintings, museums and churches from various epochs are waiting to be explored on a walking tour through Rome. First and foremost, the Colosseum and the Roman Forum as well as the Vatican and the Castel Sant'Angelo constitute the magical attractions of the city. Furthermore you will be enchanted by the many churches, inspiring historic buildings and romantic places.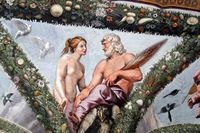 Amor and Psyche
Experience arts, culture and history in Rome
Rome itself is a huge museum with many unique and world-famous attractions. Tourists, pilgrims and locals alike can experience history and art first hand and get a good idea of the Roman and Christian culture, which ultimately influenced the whole of Europe and the Western world. No wonder that the most famous artists such as Bernini, Michelangelo, Raphael and Borromini lived and worked in Rome and decisively shaped the cityscape inside and outside up until today. Those interested in art history will have a full schedule in Rome and can therefore walk from church to church, palace to palace and admire one work of art after another in the numerous galleries.
ZAINOO walking tour through Rome
You definitely should not miss all these numerous attractions and highlights. No matter how long you have planned your stay in Rome – the ZAINOO tour suggestions ensure that you do not miss the main attractions. Whether a short trip and walking tour through Rome, a weekend or even a few days - the ZAINOO route suggestions lead to the main sights and due to many insider tips and information they try to how you the less touristy side of Rome. This is the perfect option for anyone who wants to take a very special trip to a city with a unique ambiance.