Arts and Culture in Rome
Rome as the stronghold of art history
Prominent buildings and art can be seen in Rome at all corners and ends. Even in ancient times, Rome was the centre of a world empire and therefore has many unusual art treasures. It is to the strong position of the Church and the Vatican, which were for centuries among the strongest supporters and customers of art, that the city of Rome today owes a considerable part of its artistic diversity. No wonder art lovers and those who are interested will find a true paradise with an abundance of art treasures in Rome.
Arts and culture in the ancient world
Throughout Rome you encounter the silent contemporary examples of antiquity. Many of the Roman buildings were incorporated into their shape and arrangement from the Greek. Both the temples and theatres, as well as the Roman forum resemble their Greek models. Still relevant today, Roman sculptures and statues as well as the elaborate, colourful mosaics count among the most valuable treasures of the Roman era.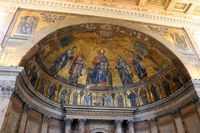 Mosaics
Early Christian and Romanesque era
Starting in the 4th Century at the latest, the art of the early Christians gained importance. In architecture as well as in art, it set new standards. The basilica, under the Romans a simple market or judgment hall, became a religious meeting room, which developed into the churches we know today. Early Christian wall paintings in the catacombs and impressive sculptures are still on display in Rome. Based on these early Christian elements, in the Romanesque and from the 7th Century many of today's Roman churches were developed with beautiful cloisters, beautiful mosaic floors and colourful murals, which were still heavily influenced by the Byzantines until the 9th Century.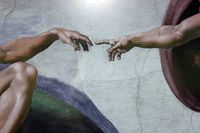 "Ensoulment of Adam" by Michelangelo
Renaissance and Baroque
While Gothic buildings in Rome could not really take hold in the 13th and 14th Century, the city flourished in the Renaissance and Baroque periods in the 14th Century. Numerous churches and palaces were rebuilt during this time and the hitherto deteriorated city shone in new splendour thanks to the understanding of art of the Popes. Great artists such as Michelangelo, Botticelli, Raphael and later Bernini created many of their most famous works, which can be admired in the eternal city even today. A motley collection of major works and styles up until today can be admired in the Vatican Museums and the Vatican itself. The beautiful Baroque squares in the city are among the most visited attractions in Rome.