Rome from the modern era to the 20th Century
From the church state to the capital of modern Italy
The fall of the Vatican's Pontifical State began with the occupation of Rome by Napoleon and the removal of the Papal States. In the revolutionary context and in the context of the independence movement Rome was occupied several times. In 1870 Pope Pius IX was forced to finally give up and Rome became the capital of the new Italian Kingdom. The Vatican got back its autonomy only in 1929 under Mussolini. Since 1946 Rome has been the capital of the modern Republic of Italy.
The end of the medieval church-state
In the glorious years between the 15th and 18th Century, which are shaped by the art of the Renaissance and Baroque periods, many of the magnificent buildings were built that characterize the Italian capital to this day. In 1798 French revolutionary troops occupied the city and Napoleon abolished the Papal States in 1809 by decree. Pope Pius II was deported to France and Napoleon's son became king of Rome. With the defeat of Napoleon in 1815, the Congress of Vienna restored the church state, and the Pope returned to Rome as a sovereign. In the turmoil of the revolutionary years between 1848 and 1850 riots broke out in Rome and Pope Pius IX had to flee from Giuseppe Mazzini and Giuseppe Garibaldi. However, in 1850 he returned to Rome with the help of French troops and banned 20,000 supporters of the Risorgimento.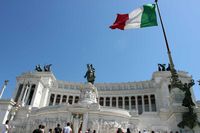 Monument of Vittorio Emanuele II.
Kingdom of Italy and Fascism
When the national Risorgimento movement proclaimed the United Kingdom of Italy under King Victor Emmanuel II in 1860, the Vatican successfully refused the accession. It was not until 1869 that Pope Pius IX gave up, after the French protection forces left Rome because of the Franco-German war. The church state was finally incorporated into the Italian kingdom in 1870. Rome became the new capital and the pope remained in voluntary exile in today's Vatican. In 1922 Mussolini marched on Rome and forced his appointment as Prime Minister - a fascist dictatorship was created. In 1929 Mussolini eventually resolved the on-going dispute with the Pope. In the Lateran Pacts Italy granted the Vatican state autonomy and a say in Italian family and matrimonial law.
Rome until today
As early as 1940 Italy entered the war on the German side - Mussolini was an important ally of Hitler. In 1943 Mussolini was deposed and arrested by the king. However, he was freed by German troops, which occupied Rome shortly thereafter. In 1944 the German army gave up and the allied forces liberated the city of Rome. In 1946 the King finally abdicated and Rome became the capital of the Republic of Italy. Today, Rome has nearly 2.8 million residents and a large civil service and bureaucracy rule the entire country.