Subiaco
Monastery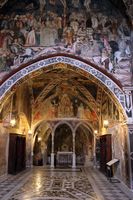 San Benedetto
Subiaco
Medieval town with beautiful Benedictine monasteries
Subiaco is a small medieval town in the Aniene valley. In ancient times the Roman emperor Nero had built an estate here, of which there are only a few ruins remaining. Much more important for the small town was St. Benedict of Nursia. He lived in a rock niche over the town for 3 years and developed the basic rules of monastic life. He founded a total of 12 Benedictine monasteries in the valley, of which two still remain and are open for public.
Attractions in Subiaco
Subiaco itself boasts of 3 attractions that are worth a quick visit. In the east of the city there is a romantic medieval stone bridge over the Aniene. Directly across the river you reach the Convent of San Francisco from the 14th Century, which houses remarkable frescoes and a valuable triptych. Worth seeing in the city centre are also the Arch of Pope Pius VI, the church of San Pietro with a cloister from the 11th Century and the rock abbey Rocca Abbaziale, which is perched like a fortress above the city.
The Monastery of St. Scholastica
About 3 kilometres outside of the village you reach the Benedictine Monastery of St. Scholastica. It is the only one remaining of 13 monasteries that St. Benedict founded personally and is named after his twin sister St. Scholastica. The three cloisters and the main church can be visited upon request with a monk free of charge. In the first Renaissance cloister reproductions of old manuscripts are exhibited. The Gothic cloister was built of marble of the villa of the Emperor Nero and has a high-quality late-Gothic portal arch. The fountain in the middle of the pillar-covered Cosmatesque cloister consists of ancient artefacts. From the total of 5 churches today only 2 remain. Today's main church was built in the classical style, and now houses some of the original chapels with beautiful frescoes.
Monastery of St. Benedict
The Monastero di San Benedetto is situated high above the valley at exactly that rocky outcrop where Saint Benedict meditated for 3 years. It was not founded by Benedict himself but was built in the 12th Century due to the growing number of pilgrims. Due to lack of space, the church was divided into an upper and a lower church, which was built directly into the rock. You can visit the beautiful frescoed building on demand with a monk. Many illustrations show scenes from the life of Benedict and early Christianity. Worth seeing in the Upper Church is the Gregory's chapel, which houses the oldest and thus most authentic portrait of Saint Benedict, which was made in his lifetime. In the lower church there is the entrance to the cave where Benedict lived for three years. Here, 13 eternal lights burn as a symbol of the 13 monasteries that he founded. The marble interior wall comes from parts of the Emperor Nero's villa at Subiaco.