Famous Romans
People who shaped Rome
Even just thinking of the glory days of Rome, many names of famous emperors, popes and artists will come into your mind. Many of these artists, painters, architects, emperors, generals and popes shaped the fate of the city and crucially ensured fame far beyond the city limits. Many of them were not even born in Rome, but the influence of Rome over the centuries attracted many artists and influential people to the city. Besides famous emperors like Caesar, Augustus, Nero and Trajan, a number of popes and artists made it into the annals of Rome.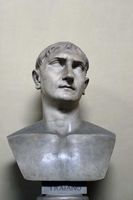 Emperor Trajan
Rome: Famous emperors and generals.
When you think of the emperors and generals of ancient Rome many famous names come to mind. The best-known with certainty and star of numerous comics and movies is certainly Gaius Julius Caesar (100-44 B.C.), namesake of the term "Emperor" and the epitome of the Roman Empire. However, his successors such as Gaius Octavian Augustus (63 B.C. – A.D. 14), the first Roman emperor, Hadrian (A.D. 76-138), Trajan (A.D. 50-117), Nero (A.D. 37-68), Marcus Aurelius (A.D. 121-180) and Constantine I (A.D. 285-337) are also well known in Roman history. Their names and deeds have shaped history until today and their buildings can be admired throughout Europe.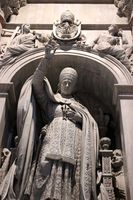 Pope Leo XII.
The Vatican - important popes in Rome
With the recognition of Christianity and its introduction as the state religion, Rome soon became the centre of the Catholic faith. Where many famous martyrs and apostles were killed, the secular centre of Christianity developed, which has manifested itself in modern times even as a secular state area under the rule of the popes in Rome. Many famous popes such as Leo I (400-461), Gregory I (540-604), Gregory VII (1020-1085), Innocent III (1160-1216), Alexander VI (1431-1503) and Paul V (1552-1621) more or less successfully steered the affairs of the Vatican and proved also to be the uppermost shepherds of Christendom.
Artists and other important personalities
Apart from the famous rulers and church leaders there are also other important personalities that can be found in Rome. Famous artists such as Gian Lorenzo Bernini (1598-1680), Giorgio de Chirico (1888-1978), Michelangelo (1475-1564) and Raphael (1483-1520) are just as much a part of it as the writer Alberto Moravia (1907-1990), the actress Anna Magnani (1908-1973) and the film director Pier Paolo Pasolini (1922-1975).