Palazzo Doria Pamphili
Gallery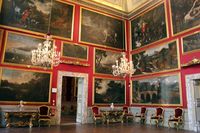 Painting collection
Palazzo Doria Pamphili
Remarkable Art Gallery in Rome
The Palazzo Doria Pamphili, near Piazza Venezia, was built in the 16th Century and changed ownership several times. After the powerful della Rovere family and the Aldobrandini family the palace finally came into the possession of the Pamphili family, which later became part of the Roman Doria family. Even today, the palace is owned by the family - a beautiful collection of paintings in the interior is now open to the public.
The Galleria Doria Pamphili
In the Galleria Doria Pamphili numerous paintings from the private property of the family can be admired. Many, some exquisite works of renowned artists from the 15th to the 18th Century are exhibited here, which are all family-owned. The sumptuously appointed apartments are best visited with a free audio guide, as the paintings are not lettered, but only provide numbers for the guide. Among the most interesting and valuable exhibits are a painting by Hans Memling, a double portrait by Raphael and the "Salome with the Head of John the Baptist" by Titian. The "Portrait of a married couple" by Sofonisba Anguissola, the "Portrait of a young nobleman" by Tintoretto as well as "Penitent Magdalene" and the "Rest on the Flight into Egypt" by Caravaggio complement the many masterpieces in the gallery. Also worth seeing are the world-famous portrait of Pope Innocent X by Velázquez and the landscape paintings of Lorrain.
Opening hours
Monday 10.00-17.00 |
Tuesday 10.00-17.00 |
Wednesday 10.00-17.00 |
Thursday 10.00-17.00 |
Friday 10.00-17.00 |
Saturday 10.00-17.00 |
Sunday 10.00-17.00 |