Piazza della Bocca della Verità
Square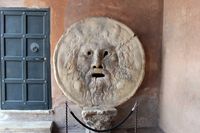 Mouth of Truth
Piazza della Bocca della Verita
Bustling Square with the Mouth of Truth
The Piazza della Bocca della Verita was once a cattle market in Rome and is now one of the busiest squares in the city. There are still monuments from various historical periods of Rome. The medieval church of Santa Maria in Cosmedin, the church of San Giorgio in Velabro and the Arch of Janus from the time of Constantine, the Casa dei Crescenzi, the house of the most powerful family of Rome in the early Middle Ages, the Temple of Fortuna Virilis and the oldest marble temple of Rome, the Temple of Vesta with the Baroque fountains of two Tritons. More than enough to explore some 1,500 years of Roman history at a glance.
Santa Maria in Cosmedin and the Mouth of Truth
The church of Santa Maria in Cosmedin is probably the finest medieval church of Rome. The construction works was begun in 772 by Pope Adrian I, and finished in 1124 by Pope Calixtus II. The nickname Cosmedin is likely to come from the Byzantines and probably goes back to a place in ancient Byzantium. The medieval jewel is impressive with a seven-storey bell tower and a two-story entrance hall with numerous beautiful cosmati works. Worth seeing in the interior are the floors, two marble pulpits, the presbyter throne with lions' heads and the ancient Gothic baldachin over the main altar.
Undoubtedly one of the highlights worth visiting is the Bocca della Verità - the Mouth of Truth - on the left wall in the entrance hall. According to legend, the stony mask of an ancient river deity works as a lie detector and bites off the hand of any swindler and perjurer. If you don't take the truth very seriously, you'd best not risk putting your hand into the mouth of the Bocca della Verità!